Ideal for breweries of all sizes, the COMPACT PerfectPitch is a portable skid solution that enables precise and consistent yeast pitching, resulting in shorter fermentation times and improved beer quality.
Last updated: July 21, 2023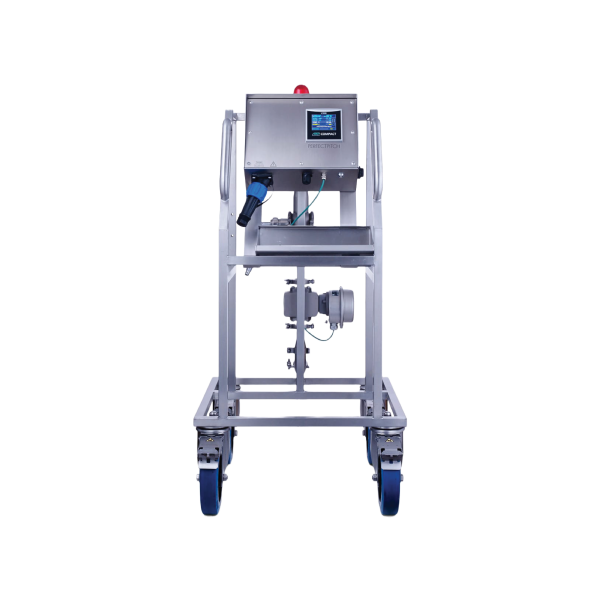 Precise yeast dosing for optimal brewing
The COMPACT PerfectPitch is a reliable and efficient yeast pitching control module designed to achieve precise control of yeast pitching, resulting in consistent and shorter fermentation times. At its core, the Compact PerfectPitch features the acclaimed Compact Adapt Yeast Monitor, ensuring accurate real-time measurement of live yeast cell concentration. Combined with a flow meter and mini-PLC, it guarantees the exact amount of live yeast is dosed into each fermenter.
Brewers can achieve better consistency in their products by consistently hitting the correct target pitching rate and reducing process variability, leading to more efficient use of vessel time. The COMPACT PerfectPitch delivers notable results such as energy, cost, and efficiency savings.
With the COMPACT PerfectPitch, brewers can safeguard their brews from potential off-flavors and hung fermentations, achieving a new level of consistency and beer quality. Brewers can effortlessly wheel the skid to the desired location within the brewery, connecting it to various yeast storage vessels and fermenters with flexible hoses. Its user-friendly design allows for seamless integration into existing setups.
Ideal for expanding micro-breweries and craft brewers, the COMPACT PerfectPitch addresses the yeast management challenges faced when using multiple vessels and different yeast strains. It offers the convenience of connecting to various yeast storage vessels and fermenters, making it the only yeast measurement instrument needed in the brewery.
Technical Specifications*

*Subject to change without notice

Measuring ranges

0 to 100 % Viable Spun Solids
0 to 6 x 109cells/ml
Note: These limits will not be reached in normal operation

Practical operating ranges

Depends on cell sizes, but typically:
0.5 - 70% Viable Spun solids
25x106 cells/ml to 5x109 cells/ml
Conductivity range of 0.75 to 3.0mS/cm
20 yeast strain storage

Power supply

100 to 240V AC input max 260V (Single phase), 45-65Hz, 15 Watts maximum.


Power connection

Connected to 900 Series Buccaneer 32A, 600V ac/dc rating

Power cord

3 core power cable (Live, Neutral, Earth) Current rating: 10-20A, Jacket material: PVC, Jacket
OD: PX0980 gland pack for PX0911/03/S 7-9mm Dark grey, 9-11mm White, 11-13mm Black.
Use suitable gland.

Electrical/EMC safety

Electrical safety Class 1 appliance handling. MUST BE GROUNDED.
Fuses – Live and Neutral fused.

Environmental

Safe ambient operating temperature range: 5°C to 40°C
Recommended ambient operating temperature range: 15°C to 30°C
Relative Humidity: < 80%, Pollution: degree 2 (EN61010)
Recommended operating altitude: < 2000 m
Maximum operating pressure for COMPACT unit: 10 Bar

Construction material

All Wetted parts 316L. Plus other FDA approved materials

Yeast monitor

COMPACT Adapt yeast monitor

Probe

Adapt Probe: Flush Standard brewery probe 25x75mm.

Flow meter

Positive Displacement, Magnetic pulse via a reed switch
Construction material: PEEK

Flow range (litres/hr)

110-2,300 (Based on water)

Skid weight

58 kg

Floor area

600x600mm (when all wheels are facing outwards)

Enclosure

IP65

Mains connector

IP68 – when mated, or with protective cap fitted

Pipe Connector type - In/out

RJT (Male Type) 1.5"

Secondary I/O

Auxillary relay switch option
Visit the supplier's website for more information about this product.