Image analysis instrument for yeast cells
The Countstar is an instrument that simplifies and accelerates the measurement of yeast concentration and viability, providing accurate results using advanced image analysis technology and the standard dye exclusion method.
Last updated: July 15, 2023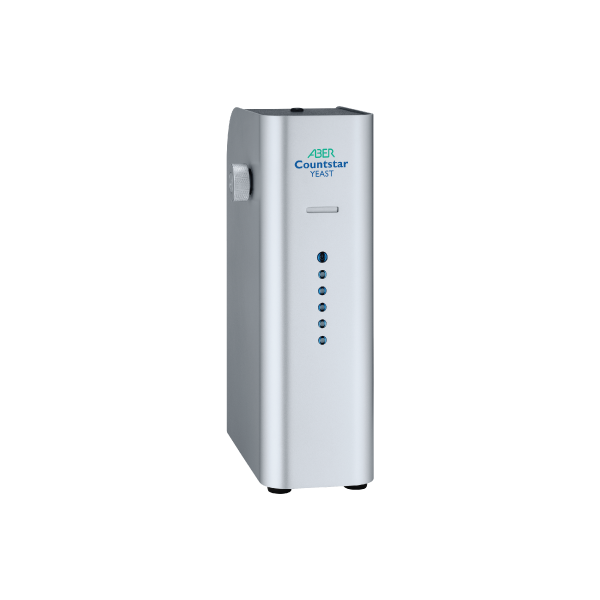 Advanced yeast cell counting system
The Aber Countstar is a state-of-the-art benchtop instrument designed to simplify and expedite yeast concentration and viability measurements. With its advanced image analysis technology and utilisation of the standard dye exclusion method, this device delivers fast and accurate results in less than 20 seconds. The instrument is equipped with autofocus technology and a sophisticated digital image analysis algorithm, allowing it to rapidly determine yeast counts, viability percentages, and average yeast sizes. It can count cells with a diameter of 2 µm or more and assess viability for cells with diameters greater than 6 µm.
Gone are the days of time-consuming and error-prone manual haemocytometer readings. The Aber Countstar eliminates the need for tedious procedures, offering a more efficient and reliable solution. It requires only a small 20 µl sample of yeast suspension and can provide precise measurements for yeast samples ranging from 5×104 to 3×107 cells per ml.
The results can be easily analysed within the Countstar software, enabling users to compare up to ten samples for cell concentrations or percentage viability on a single chart. All data is automatically stored in the software's data library, organised chronologically by month. 
Technical Specifications*

*Subject to change without notice

Measuring range

5x104 - 3x107 cells/ml

Yeast cell sizes

From 2μm upwards

Sample volume

20μL

Measurement time

Less than 20 seconds

Weight

8 kg

Software

Countstar software (Windows 7 or above)
Visit the supplier's website for more information about this product.