Probe for Diffuse Reflectance measurement
Designed to be in direct contact with the product that it's collecting spectral data from, the SentroProbe DR LS NIR is a smart probe for the measurement of diffuse reflectance in the near infrared range.
Last updated: April 10, 2023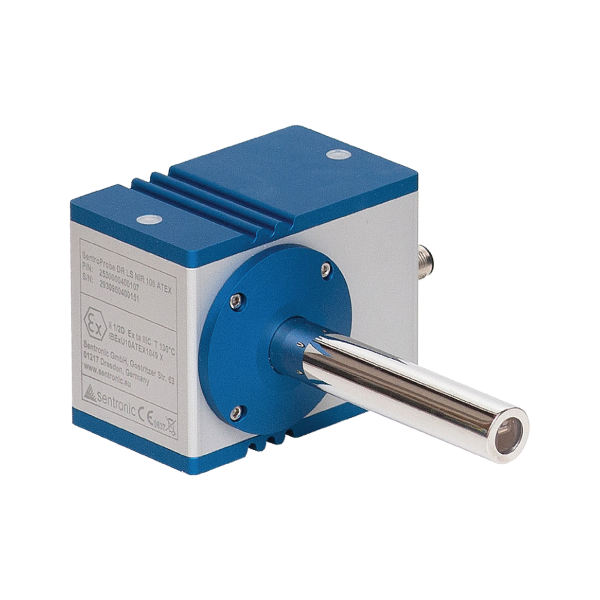 For DR measurement in NIR range
The SentroProbe DR LS NIR is a smart probe for measuring diffuse reflectance in the near infrared range. Two redundant light sources are used to directly illuminate the sample, which results in a better signal-to-noise ratio at a 5 mm spot size. Installation expenses are affordable even for lengths of up to 50 metres because the integrated illumination is connected to the SentroPAT FO using single core optical fibres.
When the probe is used in conjunction with the SentroPAT FO and set up with SentroSuite GMP, it is a complete solution that offers insightful process information, from product development to routine operation. High reliability is ensured with a dual-light source, and the optimised diode array, which takes several spectra every second, is perfect for measuring fast moving products.
Technical Specifications*

*Subject to change without notice

Technology

Diffuse reflectance

Light source

Two redundant tungsten light sources

Nominal life time

14,000hrs for each bulb

Lamp power

Configurable up to 5W

Wavelength range

400 - 2500nm

Measurement spot

Approximately 5mm

Detection fiber

Single core 400µm fiber optical cable

Measurement distance

Direct product contact

Probe tip diameter

3/4" (19mm)

Standard lengths probe tip

65mm, 100mm, 200mm, 300mm

Installation

Flexible and welded 2" hygienic flanges

Rating

IP65, ATEX zone 20/21, GMP compliant
Visit the supplier's website for more information about this product.