Compact Powder blender for NIR Applications
The SentroBlender is a compact powder blending system with integrated NIR capabilities. Achieve precise blending results, flexible sample fixation, and accelerated methods development for efficient powder mixing processes.
Last updated: July 10, 2023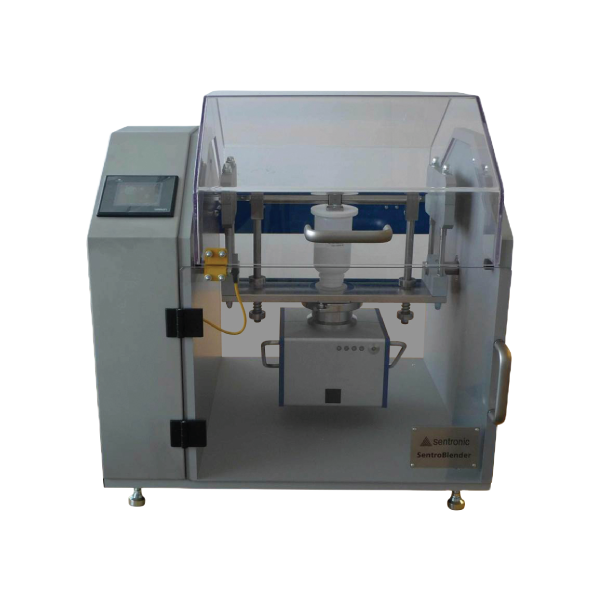 NIR-enabled precision blend system
The SentroBlender is a compact powder blending system with integrated NIR capabilities. It offers precise control and configurable options for blend time or number of revolutions. With flexible sample fixation, it accommodates various sample bins or bottles. The SentroBlender streamlines NIR PAT methods development, reducing time and costs. It enables rapid completion of comprehensive Design of Experiments (DoE) with small batch sizes, minimising material usage.
The system is compatible with Sentronic PAT NIR systems for seamless method transfer. Optional glove box integration ensures safe handling of potent products. The user-friendly touch panel control allows for easy operation. The SentroBlender provides accurate and reliable blending results, enhancing efficiency and optimisation in powder mixing processes.
Technical Specifications*

*Subject to change without notice

Flange

Standard 4" flange with 8.5mm thick sapphire
Equal to standard connection for process equipment

Sample adapter

Flexible connector for different bins and bottles
Easiest replacement of sample bins
2" square bins available as accessory

Sample container size

Max. height 175mm, max. diameter or length 124mm

Control

Touch panel for control and configuration

Process control

Configurable for time and number of rotations

Rotation speed

Up to 60 rpm

Safety

Emergency stop connected to housing / protection cover

Power supply

90-260 VAC

Dimensions incl. cover (H x W x D) in mm

700 x 700 x 640

Weight

90kg
Visit the supplier's website for more information about this product.