The SentroPAT DA is a dedicated NIR analyser designed for non-invasive online monitoring of pharmaceutical powder blending. It utilises diode array technology and provides valuable process insight from product development to operations.
Last updated: April 24, 2023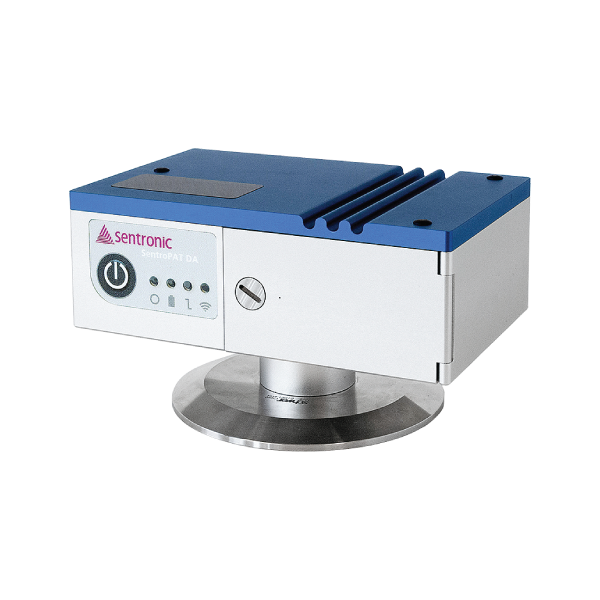 Diode-array-based NIR analyser
At the core of the SentroPAT DA is a reliable and durable InGaAs diode array spectrometer. Its high spectral resolution and wavelength accuracy, coupled with low noise, make it suitable for use in demanding applications. Its superior system-to-system comparability streamlines method transfer between different instruments. Additionally, its long-term and temperature stability are of the highest quality, supported by internal intensity and wavelength references.
It offers several key benefits, including quantitative analysis of blend constituents using chemometric models, process knowledge for blend time optimisation, elimination of conventional sampling and laboratory analysis, real-time monitoring of blend uniformity, ease-of-use and minimum maintenance, reliable measurement synchronisation to the blender rotation, easy-to-clean surfaces for use in GMP production facilities, and data integrity through embedded buffering and WiFi transmission. The system is also compatible with plant-level IT and controls via OPC-server or interfaces to SIPAT or SynTQ.
Technical Specifications*

*Subject to change without notice

Detector

512 pixel linear InGaAs array

Wavelength range

1100 - 1900nm

Spectral resolution (FWHM)

Approximately 10nm

Wavelength accuracy

< 1nm

Wavelength reproducibility

< 0.2nm

Photometric linearity

Fulfilling USP <1856> and EP 2.2.40 requirements

Noise - High flux

According to USP<1856> and E.P. 2.2.40

Noise - Low flux

According to USP<1856> and E.P. 2.2.40

Light source

2 x 5W used redundantly for maintenance free operation for > 10 years

Data acquisition time

< 1s (configurable, typically 0.5s)

Sampling interface

Non contact, through sapphire window

Measurement spot size

Approximately 10mm diameter

Measurement trigger

Software controlled by 3 axis accelerometer, synchronised to blender rotation

Power supply

Replaceable Li-Ion battery, > 6 hours operation
External power supply for lab operation and recharging

Enclosure

IP65 / NEMA4, cGMP conform, Aluminum anodised

Dimensions

170 x 105 x 60mm (W x D x H)
Height: add 36mm for flange

Weight

2.2Kg

Communications

WiFi (802.11 a/g/n)

Software

SentroSuite GmP, optional interfaces to SiPAT and SynTQ

Validation

Software integrated validation routines according USP<1856>, EP2.2.40

Service port

Service Connections for HDMI monitor and USB for computer peripherals

Mounting

4" or 2" sanitary flange
Visit the supplier's website for more information about this product.