Process Mass Spectrometer
A reliable and precise online gas analyser designed to optimise process efficiency and maximise product yield in various industries, featuring magnetic sector technology, a unique RMS inlet system, and exceptional precision.
Last updated: May 15, 2023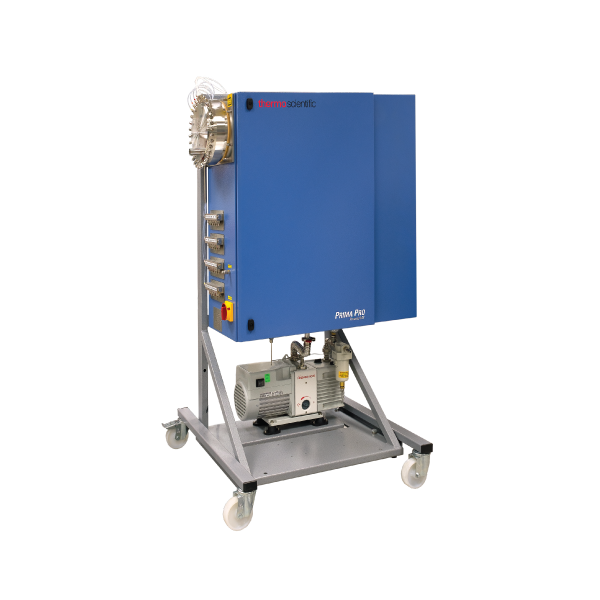 Prima PRO Process Mass Spectrometer
Precise, efficient and versatile gas analyser
The Thermo Scientific™ Prima PRO Process Mass Spectrometer is a state-of-the-art gas analyser engineered to optimise gas analysis in a wide range of industries, including petrochemical, iron and steel, and biotechnology. Equipped with advanced magnetic sector technology, the Prima PRO ensures exceptional precision, accuracy, and stability in gas analysis.
The Prima PRO sets new standards for efficiency with its unique RMS inlet system. No longer do you need multiple gas chromatographs for simultaneous analysis of multiple gas samples. The Prima PRO enables you to analyse up to 64 gas samples simultaneously, saving you time, resources, and maintenance efforts.
Designed with a fault-tolerant and rugged construction, the Prima PRO guarantees exceptional reliability and availability, surpassing 99.7%. Featuring automated calibration intervals of up to 90 days, it reduces the frequency of manual calibrations, saving you valuable time and effort. Its intuitive interface and auto-tune capabilities facilitate ongoing operation, enhancing productivity and efficiency in your gas analysis processes.
Whether you're involved in natural gas processing, olefin production, iron processing, or other critical industrial processes, the Prima PRO is tailored to meet your specific needs. It empowers you to monitor and analyse gases with precision, ensuring optimal process performance and high product yield across a range of applications.
Technical Specifications*

*Subject to change without notice

Ion source

Enclosed electron impact with dual filaments, temperature controlled (settable over range 120-200°C, to ± 0.1°C)

Analyzer type

Scanning, laminated electromagnet, 6 cm radius, 80° deflection

Mass range

1-200 amu

Resolution

Switchable between two collector resolving slits, resolving powers of 60 (1mm) and 20 (4 mm) are standard.
Optionally 140/85 (0.36 mm/0.69 mm) or 100/45 (0.56 mm/1.45 mm) or 140/45 (0.36 mm/1.45 mm) may be fitted

Mass scale stability

Measured at mass 28 < 0.013 amu over 24 hours

Peak shape

At 60 resolution, the ratio of the width of the flat-top (99% height width) to the base peak width (5% height width) 0.5

Abundance sensitivity

<250 ppm for 27/28 amu

Detector

Faraday and optional Faraday/SEM dual detector

Inlet

Temperature controlled micro-capillary with Molecular leak and bypass (standard configuration)

Vacuum system

Turbo-molecular pump and external rotary pump
Alternatively, turbo-molecular Pump and internal diaphragm pump

Sample flow

Digitally measured and recorded for each stream for any instrument with RMS option

Analysis time

0.3-1.0 sec/gas component

Ambient temperature

12-42°C

Lower Detection Double SEM

10 ppb typical (may vary with gas matrix)

Lower Detection Single SEM

0.1 ppm typical (may vary with gas matrix)

Lower detection faraday

20 ppm typical (may vary with gas matrix)

Precision

Better than 0.1% relative over 24 hours

Linearity

<1% relative over a decade change in concentration (typical, application dependent)

Dynamic range

1 ppm – 100% (theoretical, application dependent)

Stability

Better than 10% relative over one month

Power requirements

115/230 VAC, consumption 1500 VA

Physical dimensions

65 cm (26") L × 150cm (59") H × 70 cm (28in) W
300 kg (660lbs) configuration dependent

Area classification options

General purpose: Z-purged Div 2 (optional); X-purged Div 1 (optional); CENELEC/ATEX Zone 1, IIC T3 (optional)
Visit the supplier's website for more information about this product.