Environmental Mass Spectrometer
The Sentinel PRO Environmental Mass Spectrometer is a highly reliable and precise gas analyser designed for industrial settings, capable of monitoring and detecting toxic volatile organic compounds (VOCs) from fugitive emissions.
Last updated: July 25, 2023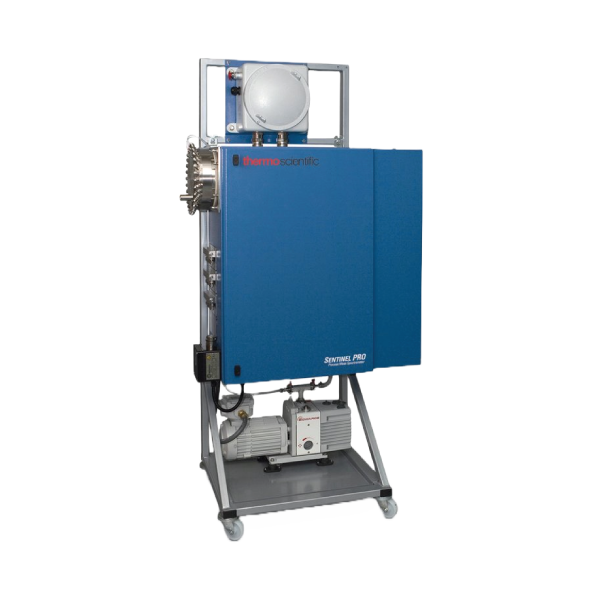 ¨Reliable and efficient gas analyser
The Sentinel PRO Environmental Mass Spectrometer is an advanced gas analyser engineered to ensure industrial plant safety be detecting toxic volatile organic compounds (VOCs) in fugitive emissions. With its magnetic sector technology, this reliable and precise mass spectrometer offers species-specific detection, providing accurate data on VOC concentrations ranging from 1ppm to 100ppm. Its membrane inlet enhances sensitivity, enabling early leak detection and correction, minimising hazardous exposure risks.
The Sentinel PRO can efficiently monitor over 100 sample points within 15 minutes, surpassing traditional analysers in both speed and efficiency. Its fault-tolerant design ensures availability exceeding 99.7%, while simplified maintenance procedures reduce downtime.
In industrial chemical production units where potential danger exists from fugitive emissions of toxic organic vapors, regulatory authorities often require plants to maintain records of ambient vapor concentrations to protect workers from long-term exposure. The Sentinel PRO offers spatial and temporal resolution required to qualify as actionable information, which other technologies like electrochemical sensors or open path FT-IR spectroscopy cannot provide.
Technical Specifications*

*Subject to change without notice

Ion source

Enclosed electron impact with dual filaments, temperature controlled (settable over range 120-200°C, to ± 0.1°C)

Analyser type

Scanning, laminated electromagnet, 6 cm radius, 80° deflection

Mass range

1-150 amu at 1000V ion energy; 1-300 amu at 500V ion energy

Resolution

Switchable between two collector resolving slits, resolving powers of 60 (1mm) and 20 (4 mm) are standard.
Optionally 140/85 (0.36 mm/0.69 mm) or 100/45 (0.56 mm/1.45 mm) or 140/45 (0.36 mm/1.45 mm) may be fitted

Mass scale stability

Measured at mass 28 < 0.013 amu over 24 hours

Peak shape

At 60 resolution, the ratio of the width of the flat-top (99% height width) to the base peak width (5% height width) 0.5

Detector

Faraday and optional Faraday/SEM dual detector

Inlet

Temperature controlled micro-capillary with Molecular leak and bypass (standard configuration)

Vacuum system

Turbo-molecular pump and external rotary pump
Alternatively, turbo-molecular Pump and internal diaphragm pump

Sample streams

249

Analysis time

0.3-1.0 sec/gas component

Ambient temperature

12-25°C (12-35°C optional)

Lower Detection Double SEM

1 ppm typical (may vary with gas matrix)

Lower Detection Single SEM

0.1 ppm typical (may vary with gas matrix

Lower detection faraday

20 ppm typical (may vary with gas matrix)

Precision

All readings within 0.5 ppm of calibrated value (24 hours)

Linearity

<1% relative over a decade change in concentration (typical, application dependent)

Dynamic range

1 ppm – 100% (theoretical, application dependent)

Stability

Better than 10% relative over one month

Power requirements

115/230 VAC, consumption 1500 VA

Serial connections

RS232/422/485

Communications protocols

Modbus, Siemens 3964, Siemens 3964R, VGCP, PVGCP

Physical dimensions (L x H x W)

65 cm × 150cm × 70 cm
300 kg (configuration dependent)

Area classification options

General purpose: Z-purged Div 2 (optional); X-purged Div 1 (optional); CENELEC/ATEX Zone 1, IIC T3 (optional)
Visit the supplier's website for more information about this product.