Raman spectroscopy system
The VISERION is an advanced Raman spectroscopy system offering simultaneous multichannel measurements, rugged construction, and flexibility for precise analysis of various materials without sample preparation.
Last updated: July 15, 2023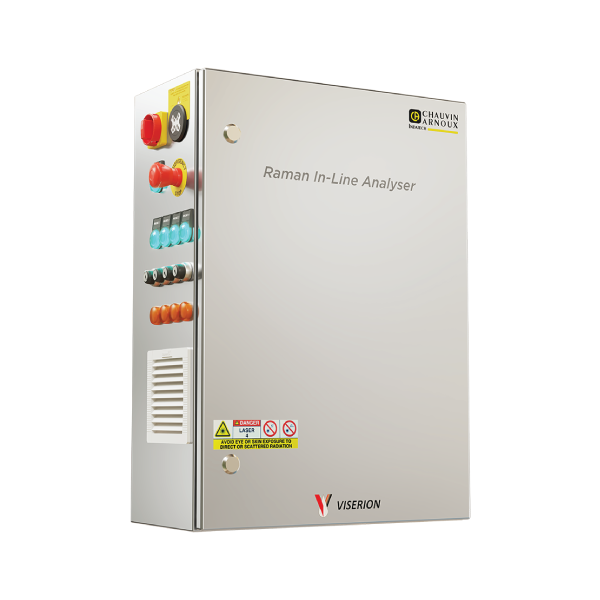 Cutting-edge raman spectroscopy solution
VISERION is a highly advanced Raman spectroscopy system specifically designed for industrial applications. This cutting-edge system offers simultaneous multichannel measurements, providing rapid and efficient analysis of materials. Equipped with four probes and lasers, VISERION enables streamlined data acquisition, significantly reducing analysis time. Built to withstand rigorous conditions, VISERION features a rugged stainless-steel casing that protects the integrated industrial PC. This robust design ensures durability and long-lasting performance. The system supports remote measurements via optical fiber, enabling convenient and efficient data collection.
VISERION offers exceptional versatility, allowing users to choose between two different excitation wavelengths. The 785 nm Raman laser strikes a balance between signal intensity, fluorescence sensitivity, measurement range, and cost-effectiveness. Alternatively, the 830 nm Raman laser is ideal for analysing dark-coloured samples such as dyes, oils, and coloured polymers, minimising fluorescence while slightly affecting integration time and measurement range.
With its adaptability, VISERION excels in various applications, including production monitoring, inspection of finished products, and remote measurements via optical fiber.
Technical Specifications*

*Subject to change without notice

Technology

Non-destructive Raman analyser of chemical, pharmaceutical and chemical media

Light source

Up to 4 Raman lasers, at a power of 500 mW

Spectrometer

1 multichannel measuring spectrometer

Spectral range

@785 nm: 250 - 3,200 cm-1
@830 nm: 250 - 2,900 cm-1

Spectral resolution

6 cm-1

Samples

Samples of various natures in various states, in particular light to dense liquids, coloured media, as well as solid matrices (vials, cups, etc.)

Measurement time

Integration time between 0.1 and 240 seconds, possibility of several scans per measurement and display of the mean spectrum

Processing of measurements

Real-time display of the spectra from the sample measured by means of the VISERION Ready firmware

Environmental temperature

5 - 40°C

Relative humidity (without condensation)

5 - 90 %

PC

Fanless industrial PC integrated in the Raman unit

Casing (H x L x W)

Stainless steel unit, 700 x 500 x 250 mm (including internal PC)

Laser safety

Compliant with EN-NF 60825-1
Visit the supplier's website for more information about this product.