Hyperspectral imaging solution
HypeReal is a non-destructive inspection system that utilises hyperspectral imaging technology to analyse solid dosage forms, providing quick and accurate assessments of chemical composition, moisture content, and contamination.
Last updated: July 15, 2023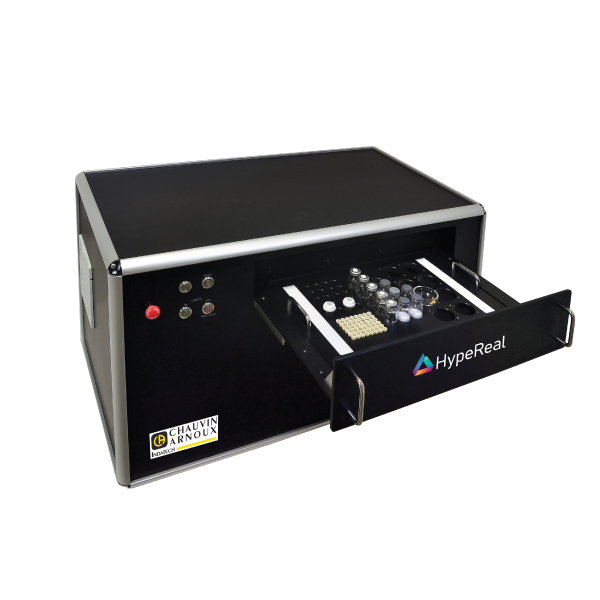 Hyperspectral imaging for solid dosage forms
HypeReal is an advanced inspection system for solid dosage forms. Utilising cutting-edge hyperspectral imaging technology, HypeReal offers quick and precise evaluations of critical quality criteria without compromising the integrity of the samples. With HypeReal's near-infrared chemical imaging (NIR-CI) capabilities and the fusion of digital imaging and optical spectroscopy, it provides comprehensive spectral and spatial information for thorough analysis. The system allows direct measurements through glass or plastic containers, eliminating the need for complex optical adjustments and ensuring user-friendly operation.
HypeReal enables the identification of active pharmaceutical ingredients, characterisation of powder blends, assessment of moisture content, detection of physical defects, examination of sample homogeneity, and ensures contamination-free results. Its robust and repeatable measurement configuration ensures accurate and reliable data acquisition.
Technical Specifications*

*Subject to change without notice

Technology

Benchtop near-infrared imaging system with built-in hyperspectral camera moving beneath the sample, backed by an external PC delivered with the system.

Detector

InGaAs with TEC cooling

Spectral range (bands)

900 – 1700 nm (224)

Spectral resolution (FWHM)

8 nm (average)

Spectral sampling / pixel

3.5 nm

Spatial resolution

640 pixels, 300 µm per pixel

Specimens

Solid samples with maximum dimensions of 30 x 20 x 8 cm are measured from underneath by means of customised trays

Measurement time

Less than one minute to analyze a tray (e.g. 120 x 3 mL vials)

Analyses

Real-time prediction via the user-friendly Breeze® interface or analysis using different software chosen by the user (e.g. MATLAB)

Temperature

5 – 50 °C (without condensation)

Relative humidity

5 – 95 % (without condensation)

Benchtop system dimensions (H x W x D)

47.39 cm x 81.98 cm x 46.44 cm (without external PC dimensions)
Visit the supplier's website for more information about this product.