Automated cell counter & cell viability analyser
An automatic high-throughput cell counter for parallel cell cultures, providing rapid and precise measurements of cell concentration and viability without the need for sample preparation.
Last updated: July 6, 2023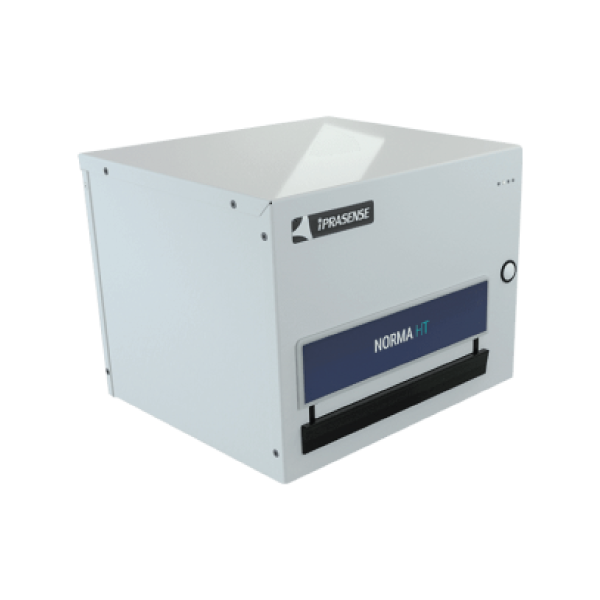 Rapid and Accurate Parallel Cell Counting
The NORMA HT is a fully automatic cell counter designed for high throughput cell culture monitoring. With its lens-less technology and wide field of view, it offers rapid and precise measurements of cell concentration and viability. No sample preparation is required, making it an ideal solution for parallel cell cultures. The NORMA HT provides ultra-fast results, high reproducibility, and a user-friendly setup for automation.
The NORMA HT directly captures the light diffraction properties of individual cells through hologram images, without the need for objectives, lenses, or focus settings. Living and dead cells exhibit distinct holographic patterns, enabling accurate counting. The measurements are analysed by the HORUS software, which provides the number of cells counted, viability, and cell size.  The acquisition time per sample is only a few seconds, ensuring fast and efficient data collection.
Simply load your unprepared sample into the slide chamber, insert it into the NORMA HT, and press measure. The lens-less technology captures hologram images of cells without adjustments. The HORUS software analyses the measurements, providing accurate cell counts, viability, and size.
Technical Specifications*

*Subject to change without notice

Cells

Mammalian cells

Concentration range

10⁴-4.10⁷ cell/ml

Cell size range

7-50 µm

Low sample volume

2-13 µl

Number of samples

24 samples/slide - 480 samples/box

Counting time

10-15 seconds

Viability determination

Light diffraction

Image format

.PNG / .BMP / .TIFF / .RAW / .AVI

Dimensions

29,5 x 26,5 x 29,5 cm

Weight

12 kg

Enclosure

Stainless steel

Power supply

USB + 100 - 240 V AC

Software

HORUS Software

Pharmaceutical industries

21 CFR part 11 & IQ/OQ
Visit the supplier's website for more information about this product.