The 4BioCore is a high-quality, entry-level biochemistry analyser that boasts an impressive range of features to suit your laboratory's needs. With a throughput of up to 150 tests per hour, you can rely on it to deliver fast and accurate results.
Last updated: April 27, 2023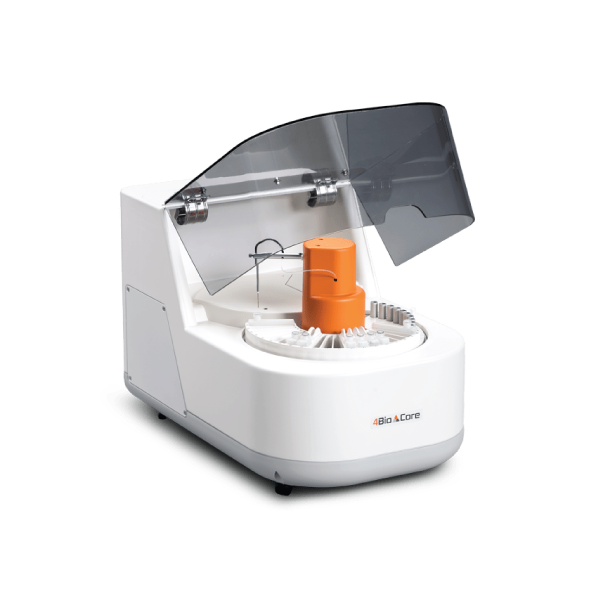 Compact and reliable biochemistry analyser
We offer biochemistry analysers that allow for quick and simple determination of substrates, metabolites and products in cell culture and fermentation samples. The 4BioCore is the most compact, lightweight, durable and cost-effective option. This entry-level system is perfect for smaller laboratories that have high expectations in terms of quality.
The refrigerated samples and reagents carousel ensures that your samples and reagents are kept at an optimal temperature throughout the testing process. With 96 single-use cuvettes and four separate cuvette racks, the 4BioCore can handle a range of different tests and samples.
Measuring just 60x38x40 cm, the 4BioCore is compact enough to fit on your laboratory bench without taking up too much space. The capacitive liquid level sensor and needle shock sensor ensure that the analyser is reliable and easy to use.
The 4BioCore also features automatic barcode identification of reagents and samples, making it easy to track your samples and ensure that the correct reagents are being used. Reproducibility is guaranteed thanks to the proven photometric technology, which means that calibration frequency is kept low.
The analyser is also highly flexible, with measurement templates, parameter profiles and reactor IDs that can be easily adjusted to suit your laboratory's needs. The user-friendly software and automatic sample dilution make it easy to operate, even for those new to biochemistry analysis. The 4BioCore also offers reliability and traceability, with lot tracking and barcoded reagents ensuring that your results can be easily traced and audited.
Technical Specifications*

*Subject to change without notice

Size

40 x 60 x 38 cm (H x D x W)

Weight

20 kg

Measurement rates

150 tests/hour for double reagent run
Maximum incubation + reading time: 750 seconds
Carry-over, lower than 15 parts per million

Reagents tray

Removable rack, refrigerated when on-board, 18+2 numbered positions
For reagent bottles of 15 mL, 2 positions are reserved for water and cleaning solution

Samples tray

Removable tray, refrigerated when on-board, 10 numbered positions, cups of 1.0 mL
Cups require a metal adapter for liquid level detection

Cuvette rotor reaction cells

4 reaction segments of 24 cuvettes, single use, optical cuvettes, 96 in total
Optical path: 9.5 mm, reaction volume 275 - 500 μL
100 W heating resistance, temperature sensor

Sampling dilution

In-needle dilution if allowed by method's sample volumes
Automatic pre-dilution in a reaction cuvette, up to 1:100
Automatic test repetition with dilution

Sampling arm

1 sampling needle, 75 mm needle stroke
Capacitive liquid level detector

External computer

Industrial Embedded PC
18-inch touch screen
4GB RAM
Windows 10 Enterprise LTSB
USB port

Computer

Industrial Embedded PC
Built-in 12.1-inch touch screen
Intel i5 / 8GB RAM, Windows 10 Enterprise
Combined SSD/HDD (128 / 500 GB)

Pipetting

Volume: 2 - 300 μl (sample), 2-350 μL (reagent)
Precision: 1.5 CV% at 2 μl; 1 CV% at 4 μL
Mixing by sample needle upon dispensation
Visit the supplier's website for more information about this product.