The 4BioCombine is a high-throughput biochemistry analyser tailored for large laboratories, enabling swift determination of substrates, metabolites, and products in cell culture and fermentation samples in a compact benchtop size.
Last updated: July 20, 2023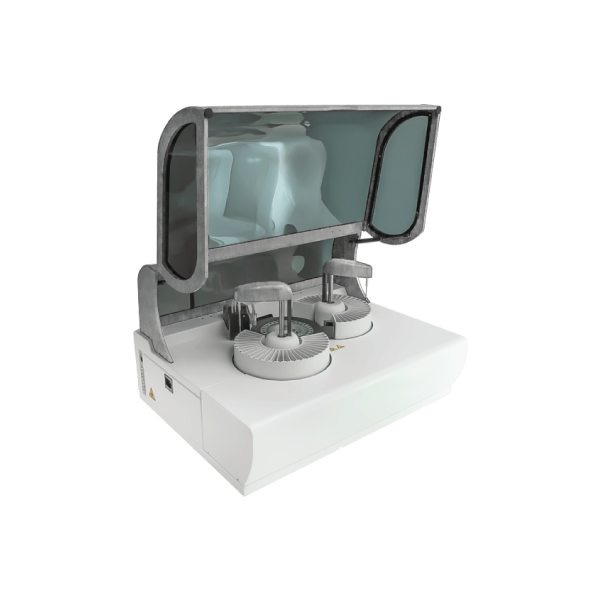 Biochemistry analyser for large laboratories
We offer biochemistry analysers that allow for quick and simple determination of substrates, metabolites and products in cell culture and fermentation samples. The 4BioCombine seamlessly combines high-throughput capabilities with a compact benchtop size, making it the ideal solution for labs with a significant number of daily samples.
Conducting up to 300 tests per hour, this analyser drastically reduces processing time. Its functionality includes two refrigerated reagent carousels, ensuring the stability and integrity of essential chemicals, and 80 reusable BIONEX cuvettes, which not only cuts costs but also promotes sustainable lab practices.
The 4BioCombine requires only a minimal sample volume of approximately 300 microliters for testing. The automatic pre-dilution feature further streamlines the process by offering hassle-free dilution of samples up to 1:100. Additionally, the device offers the flexibility of re-running tests with dilution.
Its capacitive liquid level sensor and needle shock sensor guarantee precise measurements and minimise the risk of errors. The analyser incorporates automatic barcode identification for both reagents and samples, providing complete traceability and eliminating manual data entry errors.
Technical Specifications*

*Subject to change without notice

Size

49 x 62 x 85 cm (H x D x W)

Weight

55 kg

Measurement rates

300 tests/hour (single reagent)
Maximum incubation + reading time: 612 seconds
Carry-over: lower than 15 parts per million

Reagents tray

2 removable racks, refrigerated when on-board, 2x 14+2 numbered positions
For reagent bottles of 20 mL
4 reserved positions for triangular bottles of 50 mL with water and cleaning solution

Samples tray

Removable tray, 46 (23+23) numbered positions
23 pos. for cups of 3 mL and 23 pos. for commercially available reaction tubes of 2 mL

Cuvette rotor reaction cells

80 washable BIONEX® cuvettes which allow up to 30.000 tests per rotor
Optical path: 6 mm, reaction volume 210 - 350 μL reaction volume
100 W heating resistance, temperature sensor, safety thermostat
Built-in wash station with 8 step washing sequence for each cuvette

Sampling dilution

In-needle dilution if allowed by method's sample volumes
Automatic pre-dilution in a reaction cuvette, up to 1:100
Automatic test repetition with dilution

Sampling arm

2 sampling needles, 110 mm needle stroke
Capacitive liquid level detector, needle-shock sensor

External computer

Industrial Embedded PC
18-inch touch screen
4GB RAM
Windows 10 Enterprise LTSB
USB port

Pipetting

Volume: 2 - 300 μl (sample), 5-350 μL (reagent)
Precision: 1.5 CV% at 2 μl; 1 CV% at 4 μL
Mixing by sample needle upon dispensation
Visit the supplier's website for more information about this product.