Applicable for Upstream + Downstream
Optical sensor for absorption measurement
EXcell 231 is a high precision digital NIR-absorbance sensor with a 12mm hygienic design that monitors biomass measurement in biotech, food, and pharma applications for both lab and industrial production processes.
Last updated: January 6, 2023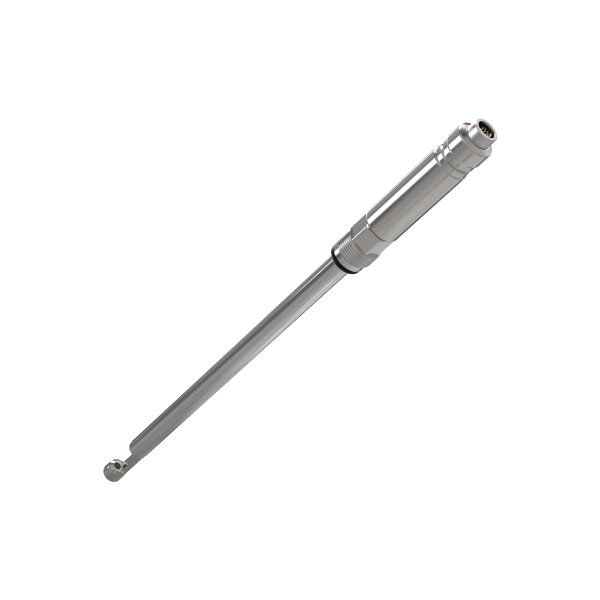 The EXcell 231 is a high precision digital NIR-absorbance sensor for monitoring production processes in the biotech, food, and pharmaceutical industries. The sensor is intelligent and reliable thanks to its 12mm stainless steel construction and non-wearing sapphire windows. Different measuring units, such as EBC, FAU, mg/l, AU, OD or customer-specific units, can be issued for mass, turbidity, and absorbance. The associated EXpert software makes it simple to parameterise the sensor on a PC, and it also allows you to record and graphically display the measured data. There are also interfaces for Modbus RS485 and a 0-20mA output with an integrated display for the measured value available.
Through a PG13.5 thread, the sensor is attached to the process. The mounting dimensions on the process side fit a common pH sensor. As a result, the sensor can be used in conjunction with fully automatic cleaning systems and probe housings.
Automatic cleaning under process conditions is also possible with the proven retractable probe housings of the EXtract 8XX series and the associated EXmatic 470 control unit (fully automatic), providing reliable use even in the most difficult applications.
Technical Specifications*

*Subject to change without notice

Measuring range

0...6 AU, 0...6600 EBC

Resolution

0,01 AU

Accuracy

± 1 %

Reproducibility

≤ 1 % from final value

Wavelength

850 nm

Light source

LED

Optical path length

5 / 10 / 20 mm

Shaft length

120 / 225 / 325 / 425 mm

Wetted material

Stainless steel 1.4435 (316L)

Surface

Ra <0.37 µm e-polished

Measuring window

Sapphire

Process connection

Thread PG13,5

Process temperature

0...90 °C, 135 °C max. 1 hour (SIP cycle)

Process pressure

Max. 10 bar (150 psi)

Electrical connection

Fischer Core Series

Cable length

2 m / 5 m

Interfaces

USB, RS485 Modbus, 0...20 mA with switching output

Protection glass

IP68
Visit the supplier's website for more information about this product.