Applicable for Upstream + Downstream
Portable dual-laser spectrometer
The NEEGALA system is incredibly versatile and open to a wide range of applications due to the integration of multiple laser lines in a single device that doesn't require any user manipulation.
Last updated: March 21, 2023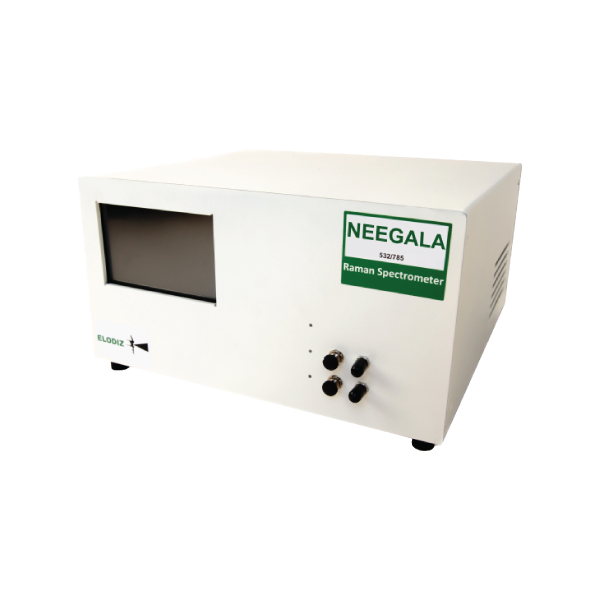 Multi-channel raman device
The system combines flexibility, functionality, and compact design with total control through software and enables data harmonisation across channels. To overcome the drawbacks of single-line portable or modular Raman units, it is composed of high-performance spectrometers and stable diode lasers that can operate in a variety of modes.
No matter how complex the application or analysis the device is to be used for, the user of traditional single-laser line products is limited to a preselected setup. With NEEGALA, which is much more than just a combination of two single-line units, this is not the case. Since multiple laser lines can be integrated into a single device without the need for user intervention, a wide range of applications that were previously only possible with bulky, lab-based research-grade Raman instruments are now possible with this incredibly versatile system. There is less chance of damaging the sample or the device because internal laser adjustment is not necessary.
The safety of operations is unmatched in the industry thanks to the optional use of a single fibre optic probe (NEEGALA probe) that enables the combination of two bilateral laser lines without signal interference and without the need for manual intervention to use either of the laser lines. The high wavelength line is used for higher resolution with a carefully balanced throughput of the spectrometers, whereas the short wavelength line's wide spectral range provides a sizable spectral range.  To ensure a stable operation of the system, the laser power, spectral range, and signal to noise ratio are all carefully balanced between the 2 channels.
Technical Specifications*

*Subject to change without notice

Laser Wavelength (nm)

532 & 785 nm

532 & 830 nm

Spectral Range

532 nm: 200 ... 4400 cm-1
785 nm: 200 ... 3000 cm-1
532 nm: 200 ... 4400 cm-1
830 nm: 200 ... 2200 cm-1
Spectral Raman Resolution (cm-1)
532 nm: 7 cm-1 @ 2520 cm-1
785 nm: 5 cm-1 @ 968 cm-1
532 nm: 7 cm-1 @ 2520 cm-1
830 nm: 5 cm-1 @ 968 cm-1

Max Laser Power (mW)

532 nm: 80 mW
785 nm: 300 mW
532 nm: 80 mW
830 nm: 300 mW

Adjustable Laser

532 nm - in 10% steps
785 nm – in 1% steps
532 nm - in 10% steps
830 nm – in 1% steps

Operation

NEEGALA single fibre probe with 2 channels or 2 individual probes (one per channel)
Fibres are 2m long

Optional Operation Modes

Single laser line; synchronise mode; sequential mode; timing mode

Spectrometer Type

Crossed Czerny Turner

Slit

10 um

Unit Calibration

Permanent factory calibration under EUROPEAN CHARISMA protocols for standardisation

Spectral Stability

σ/μ <1%

Size (WxDxL) (mm)

310x310x160 (portable version)
430x430x180 (rack version)

Weight (Kg)

15

Laser Classification

Class 3b

NA Fibre

0.22

Standard Spot Size

100 um

Focal Length

5 mm

Standard Working Distance

5 mm

Detector Type

Si based CCD detector, TEC cooled to 14°C
2048 pixels, 14x200 um per pixel

Software Control

SpecSoft by ELODIZ under Windows 10/Windows 11, Linux (Ubuntu 20.04 LTS)

PC Connection

Ethernet/ USB 3.0
Visit the supplier's website for more information about this product.